June 10, 2017, E-Flux
Bienal de São Paulo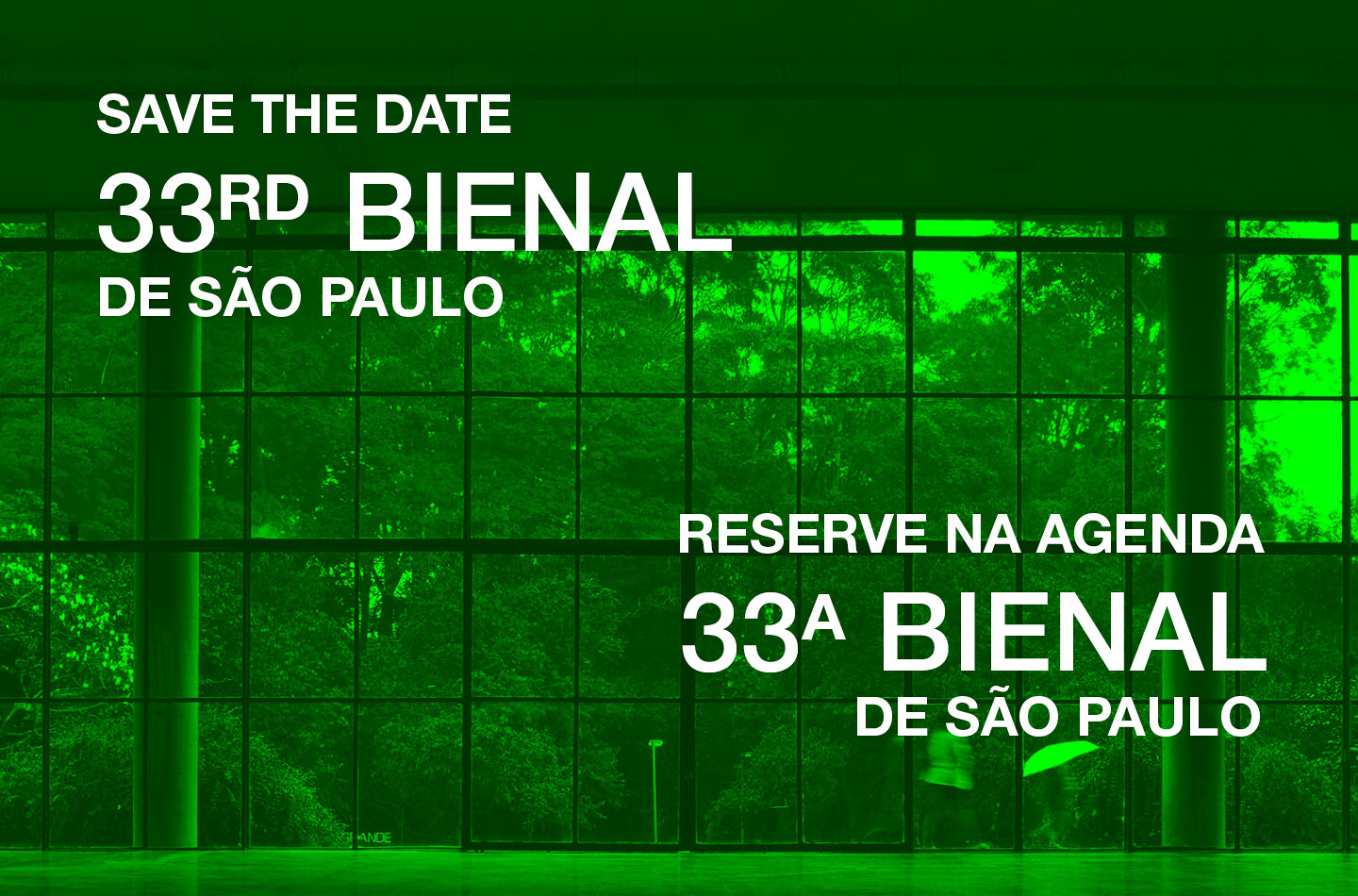 33rd Bienal de São Paulo
September 7–December 9, 2018

Press preview : September 4
Professional preview: September 5–6

Bienal de São Paulo
Parque Ibirapuera – Av. Pedro Álvares Cabral
s/n – Ibirapuera
04094-000 São Paulo
Brazil

bienal.org.br
Facebook / Instagram

The Fundação Bienal de São Paulo is pleased to announce the dates for its 33rd edition. From September 7 to December 9, 2018, Pavilhão Ciccillo Matarazzo (Bienal Pavilion) will host the exhibition curated by Gabriel Pérez-Barreiro.

Before the public opening, a press preview is scheduled for September 4th and a press, professional and guest preview for September 5 and 6. Accreditation (required) starts on January 2018.

About the curator: Gabriel Pérez-Barreiro
Born in La Coruña, Spain, Pérez-Barreiro holds a PhD in Art History and Theory from the University of Essex (UK) and an MA in Art History and Latin American Studies from the University of Aberdeen (UK). With over 20 years experience, he was curator of Latin American Art at the Blanton Museum of Art, University of Texas at Austin (2002-2008), chief curator of the 6th Bienal do Mercosul in Porto Alegre (2007), and director of Visual Arts at The Americas Society in New York (2000-2002). He was an advisor to the Iberê Camargo Foundation and his curatorial projects in Brazil and abroad include exhibitions of Lygia Pape, Geraldo de Barros, Rivane Neuenschwander, Waltercio Caldas and Willys de Castro. Last April, the Museo Nacional Centro de Arte Reina Sofia, in Madrid, has opened an exhibition dedicated to the critic Mario Pedrosa, co-curated by Pérez-Barreiro and Michelle Sommer. He is the current director and chief curator of the Colección Patricia Phelps de Cisneros, with offices in New York and Caracas.

About the Fundação Bienal de São Paulo
The second oldest art biennial exhibition in the world, the Bienal de São Paulo is organized by Fundação Bienal de São Paulo, one of the most influential contemporary art institutions in Latin America. Since its inaugural edition in 1951, there have been 32 Bienals exhibiting 67 thousand works by 14 thousand artists from over 160 countries and seen by 9 million visitors. The institution also houses a historic modern and contemporary art archive that is a reference throughout Latin America and receives researchers from all around the world.