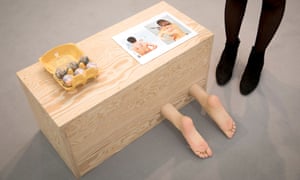 The kiss of Judas is the first thing you see at Frieze. It is striking, this great image of the betrayer of Christ bringing his lips close to his leader's as their eyes meet in a devastating moment of truth. But this is not exactly new art, having been painted by Giotto about 700 years ago. Have I blundered into Frieze Masters, the art fair's more historical companion event, by mistake? Has some art dealer prised this famous fresco off the wall of the Scrovegni Chapel in Padua? No – on closer inspection, this makes a kind of insane sense.
Tired of basing his art on ads or kitsch puppy photos, Jeff Koons has remade one the most eloquent paintings in history. At least Giotto isn't around to cry plagiarism or complain about the fact that, into the yellow robes of Judas, Koons has inserted a shiny blue mirror ball that reflects everything around it.
I've always suspected that, under his smiling salesman demeanour, Koons might be a deeply moral artist. Now I know it. For here he takes one of the most trenchant images of good and evil, and adds a beady blue eye that captures all the collectors and dealers with whom I streamed into the "professional" early viewing. Koons puts us directly into the moral world of Giotto so that we can see – and judge – ourselves.
And what a place to do it. Look around, at all these stupendously well-clad and manicured VIPs, and you start spotting collectors: that guy chomping on an unlit cigar as he eyes a painting; that slim well-heeled young couple who look as if they own a large chunk of the internet. What has brought such a gathering of wealth to Regent's Park?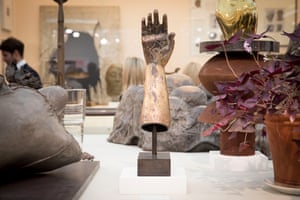 Well, Frieze London is the fair that defines the new. It offers the most complete picture of the art of our time. What a dismal prospect. For if this is the new, the new is starting to look old and jaded. Koons carries off his historical appropriation with deadly panache but that feeling of blundering into an old-fashioned art event never quite left me.
Hauser & Wirth have wittily contrived to show all their artists – from Louise Bourgeois to Phyllida Barlow – in a fake museum complete with fading old typed labels and a gift shop that sells postcards and souvenirs. This museum has been put together with classics professor Mary Beard. There are just two problems. One is that Damien Hirst has already done the same thing, on a more outrageous scale, at this year's Venice Biennale. The second is that cramming all of these modern artists into a deliberately archaic museum wrecks their individuality.
It's not just boring, it's meaningless. This is the overriding trouble with Frieze. It wants to be seen as so much more than it really is, to be respected as if it were a proper exhibition, to be revered as if its hordes of rival dealers selling wares were curators at the National Gallery. Bringing in Beard is part of that pretension.
As is this year's "curated" exhibition, spread across several galleries, that purports to explore the history of feminist art. It's called Sex Workand has a lot of full-on anatomical images by the likes of Marilyn Minter and Penny Slinger. Is Frieze getting nervous? Sex Work is a desperate attempt to make this hyper-capitalist event look radical. Where is the new in this look back at 40-year-old radical art?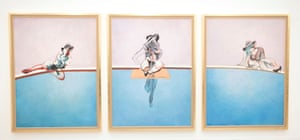 Three strange, provocative watercolours catch my eye. But they turn out to be the work of Francis Picabia, who died in 1953. Picabia was a revolutionary, part of the generation of Duchamp and dada. I found myself wondering what he might make of Frieze. He wouldn't be surprised – except by the conservatism of it all. It's a cosy mingle of famous names, blasts from the past and youngsters who are doing pretty much what their elders did. Such venerable artists as Jasper Johns, Brice Marden, Robert Mapplethorpe and Georg Baselitz are on view. Good stuff. But the cutting edge? There isn't one any more.
There's even a tryptich by Francis Bacon. Actually, there's something fishy about this. Would Bacon really have portrayed Marlene Dietrich? His fondness for Nazi imagery is well known and Dietrich was a courageous anti-Nazi. Is Francesco Vezzoli, the actual painter of this hilariously tasteless Bacon parody, saying something about nazism, history and chic? I have no idea, but his painting made me laugh.
Gillian Wearing's replica of her face bulging out of a mirror frame, at the Maureen Paley stand, is another nugget of strong art. But if you want daft performances and interactivity, head for the Focus area, where Mark Fell's Numb Imperatives features two performers in green costumes with what look like tables on their heads banging blocks of wood. Picabia would shrug. You could see better performance art at the Cabaret Voltaire in 1916.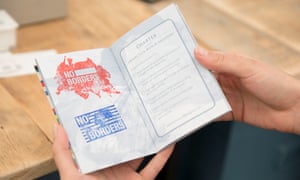 Nearby, visitors can pick up an Antarctica passport from a stall set up by Lucy and Jorge Orta as a somewhat glib comment on climate change. These fairground entertainments don't add up to much but, thinly scattered among the samey stalls, there are some intelligent artists. Take the powerful drawings of South Africa's William Kentridge, or Olafur Eliasson's transparent spheres filled with mysterious colour, like something dreamt up by a 21st-century alchemist.
Marc Bauer's drawings and paintings feel like a shot of reality, blowing through this glossy event like a chill wind. The humanity of his picture of someone hunched dismally in front of a gasholder at King's Cross in London cuts through all the clutter.
As does Andrea Büttner's woodcut Beggar, an anonymous figure lowering in supplication. When the shock of the new becomes a stale charade, the only art that still matters is the timeless and compassionate. Büttner's Beggar is nominated for this year's Turner prize, but here among the millionaires – in a year when the inequalities of London and beyond became impossible to ignore – it has a special urgency.
• Frieze London is at Regent's Park, London, until 8 October. Box office: 0871-230 3452.