5 Collecting Lessons from Dominique and John de Menil
Few philanthropists of the 20th century contributed more to the American art world than Dominique and John de Menil. French expats who left Paris for the United States during World War II, the de Menils were the heirs to multiple fortunes—including Dominique's family's booming oil equipment company, which was headquartered in Houston, Texas. The couple kept a townhouse in Manhattan and an apartment in Paris, but in Houston, they put down roots and left behind a profound cultural legacy.
Over the course of five decades, the de Menils became synonymous with the city's art scene. Their most notable contributions are the Rothko Chapel, a sanctuary devoted the the AbEx master Mark Rothko's final paintings, and their sprawling museum, The Menil Collection, which showcases their legendary approach to collecting, which was centered around making a wide swath of historic and contemporary art accessible to the public. They amassed nearly 10,000 works of art during their lifetimes, ranging from ancient art of Africa, the Near East, and the Americas, to Byzantine frescoes and Surrealist painting.
Their collecting prowess is detailed in William Middleton's new book, Double Vision: The Unerring Eye of Art World Avatars Dominique and John de Menil. Artsy recently caught up with the author, who shared his insights on the de Menils and the principles that guided their collection.
When you have a fortune, collecting is a moral imperative.
Dominique and John de Menil, November 6, 1968, at the opening of A Young Teaching Collection (November 7, 1968-January 12, 1969), the Museum of Fine Arts, Houston. Photo by Hickey-Robertson Courtesy of Menil Archives, The Menil Collection, Houston.
The de Menils would likely not have devoted so much of their fortune to art had it not been for an important early advisor: Father Marie-Alain Couturier, a Dominican priest who doubled as an art expert, whom they met in New York in the early 1940s.
"Father Couturier helped them understand that their fortune brought with them responsibility to acquire art and make it available to the public," Middleton explained. "He gave them sort of a higher calling for collecting art." Prior to settling in Houston, the pair had collected a few works, but "it had seemed like a frivolous activity," Middleton said.
"Settling in Houston, a city that had very little art, was very important, as well," he continued. "I don't think, had they stayed in Paris or had they lived only in New York, that they would've collected quite as seriously as they did, because in Houston they were needed." He added that Dominique had spoken about the dearth of history in Houston (compared, say, to Paris), which led her to collect ancient works of art.
Find the art you can collect.
The Oceanic galleries of the Menil Collection, 1987. Photo by Hickey-Robertson. Courtesy of Menil Archives, The Menil Collection, Houston.
Even if you don't have a fortune, though, the de Menils led by examples that any collector (or aspiring collector) can learn from—beginning with finding the art that you can afford.
"The de Menils didn't collect Old Master paintings—they were far too expensive," Middleton explained, and they also bought very little Impressionism, which was also too expensive by the time they began collecting. Instead, in the early years, they focused on Surrealism. He noted that Dominique was known to tell the story of a Parisian man named Pierre Delcourt, who was a collector at the turn of the 20th century, until his wife, concerned over their finances, forbade him from buying any more art. Instead, Delcourt began to collect free pamphlets, business, and other papers, eventually building a significant collection of printed materials, which was ultimately acquired by the Bibliotheque Nationale.
"Dominique thought it was amazing, because here he couldn't spend any money, and yet he ended up collecting something for free that turned out to be really significant," Middleton said. "So she found some areas that were not highly sought-after and collected in depth." That made the collection delightfully diverse, ranging from the Paleolithic era to Pop Art, with vast holdings in art of the Americas, Africa, and the Pacific Islands, as well as Byzantine art and Surrealism.
Buy what you love, not what everyone else loves.
Dominique de Menil in the living room of the de Menil house in Houston, 1979. Photo by David Crossley. Courtesy of Menil Archives, The Menil Collection, Houston.
Barnett Newman, Broken Obelisk, 1963-1967, dedicated to Martin Luther King, Jr., in front of the Rothko Chapel (1971). Photo by Hickey-Robertson. Courtesy of the Rothko Chapel Archives.
Clearly it was not just affordability that informed the de Menils' purchases. In an interview later in life, when Dominique de Menil was asked to share the names of fellow collectors she admired, she replied, "I admire anyone who buys for love." This passion led the de Menils to collect works from artists who they met and became close friends with, many of whom were not in demand at the time.
"Today, Max Ernst is very much a part of the canon of 20th-century art, but essentially when the de Menils were buying Surrealist art, starting in the '40s and especially in the '50s, it was not an area that people were interested in," Middleton said. They'd first befriended Ernst in Paris in the '30s and supported him for decades, even at the height of Abstract Expressionism in the U.S., when figurative painting was largely frowned upon.
They were also very close with Andy Warhol, Middleton said, and believed in him at a time when not everyone did. John de Menil wrote in November 1968, "He's a marvelous man whose human quality usually is distorted by the desire to turn him into a star of the sensational when his pioneering work is serious and deep."
Find advisors you can learn from.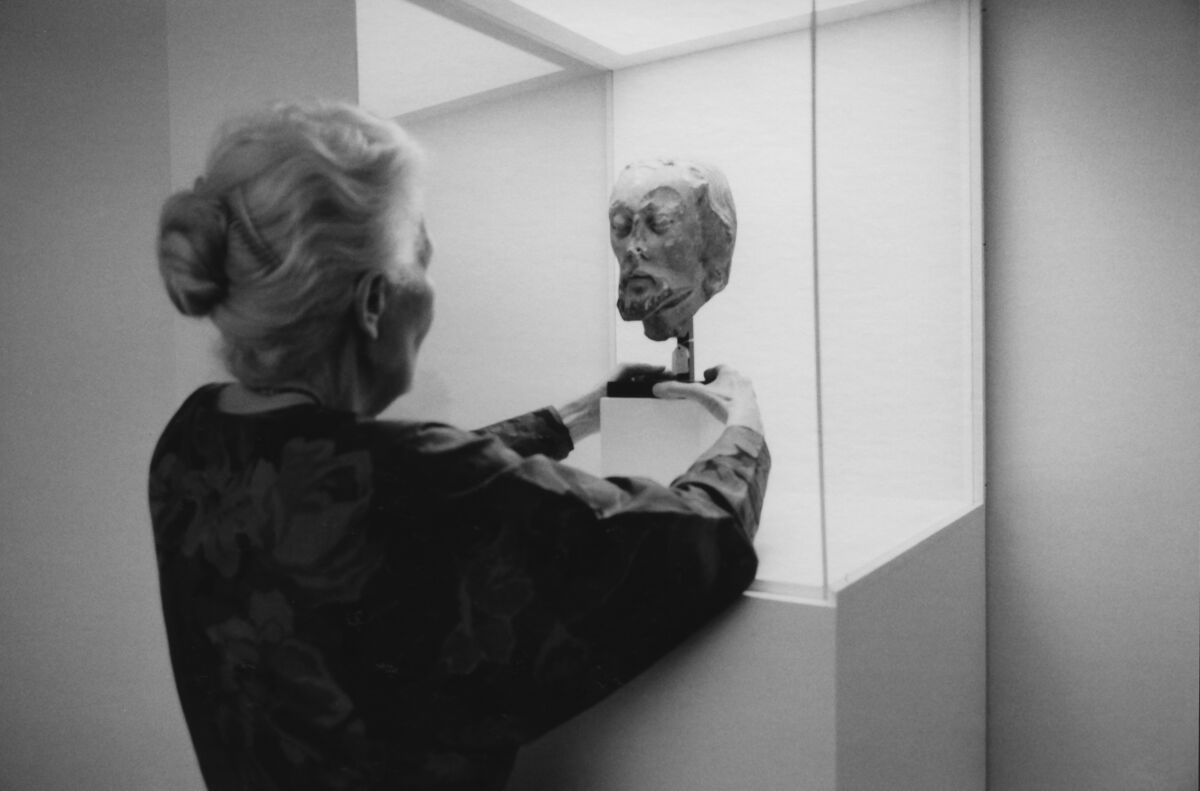 Dominique de Menil, June 3, 1987, making last minute adjustments to a Gothic sculpture, Head of a Bearded Man, France, ca. 1290-1300, on the way to the opening night gala of the Menil Collection. Photo by Adelaide de Menil. Courtesy of Menil Archives, The Menil Collection, Houston.
Middleton noted that the couple was always hungry for knowledge about art, and given their wide-ranging tastes, they sought out a variety of experts who could not just tell them what to buy, but teach them.
"Dominique and John didn't have advisors like people have today, but they had museum directors, curators, and art historians that they surrounded themselves with, to learn about areas of collecting," he said. "We think of them, particularly later in life, as being such accomplished collectors, but you see that at the beginning they made mistakes. John de Menil once said there are lemons that you buy, there are fakes, and you learn from that."
Alfred H. Barr Jr., Meyer Schapiro, and Leo Steinberg were all informal advisors for the de Menils, though their two most influential advisors, Middleton said, were the aforementioned Father Couturier, and the art dealer Alexandre Iolas. The latter was largely responsible for their great Surrealist collection; Dominique would say that the dealer saved one of the best Magrittes for them each year.
Foster fellow collectors and protégés.
The 20th century galleries of the Menil Collection, 1987, with paintings by Georges Braque, Joan Miró, Henri Matisse and Pablo Picasso. Photo by Hickey-Robertson. Courtesy of Menil Archives, The Menil Collection, Houston.
In line with their lifelong mission to support the arts, the de Menils were passionate about inspiring others to do the same.
Middleton points to an early observation of John's, that "Houstonians would think nothing of spending $100,000 for a prize bull, but they would not pay $1,000 for a work of art." Beginning in the '50s, he tried to get locals interested in collecting art, if only for the investment value. He started Art Investments, for example, a partnership among 12 local business people who went in on artworks and shared them, rotating the works so they could be hung for a period of time in each of the 12 members' homes.
For her part, Dominique started groups such as the Pompidou Foundation (an American patronage group of France's Centre Pompidou) through which she organized trips to Europe, to bring Americans to museums, artist studios, and collectors' homes. "Dominique didn't try to teach, she just put people in front of great art, in a very personal way," Middleton said. "In that way, she inspired quite a few Texans to become collectors."
Their impressive Houston home—designed by Philip Johnson and furnished by designer Charles James—and the local exhibitions they organized also served to inspire fellow Houstonians. Their first show, a 1951 Vincent van Gogh exhibition held at the small Contemporary Arts Museum in downtown Houston, included loans from private collections and museums around the world (including the Met and the MoMA). "It was the most important cultural manifestation ever seen in the state of Texas," Middleton said, noting that 14,000 people visited over the course of three weeks.
They also fostered younger generations of art scholars, curators, and collectors, inviting students of the University of St. Thomas in Houston, for example, to their home for dinners and gatherings. Some went on to carve out art collections and careers of their own, like art historian Helen Winkler, who co-founded the Dia Art Foundation in 1947 (with the de Menils's daughter, Philippa and her husband, art dealer Heiner Friedrich). "That was an essential part of what the de Menils did," Middleton said. "They brought people along."
 5 consejos para coleccionista